Dubbo Touch operates under the 8th Edition of the TFA Touch Football Rules.
8th Edition Rules - Touch Football Australia
Touch Football utilises a 3 way referee team to officiate a match, with all 3 referees rotating continuously through the three positionings as the match progresses. This Referee Team work together to control the game, and Dubbo Touch is focussed on building a strong and supportive Referee Team culture within the club.

Non-playing referees are not ample, and it is a Condition of Entry for each team to supply two people, including at least one Referee, for team duty each week.
Referee Courses are run on a needs basis and can be facilitated locally by the Referee Directors and Regional Director. To referee at Dubbo Touch the minimum age for the Junior Competition is 12 years, and Senior Competition is 14 years.
All junior and developing referees are mentored by more experienced referees to assist in their growth as referees and to develop further skills and confidence on the field.
All referee allocations completed by the Referee Directors are based on a number of factors including anticipated game level, referee badge and skill level, along with development of referees. All junior and developing referees will be allocated with more experienced and senior referees and on appropriate level games.
Touch Football has a graded badge level for referees.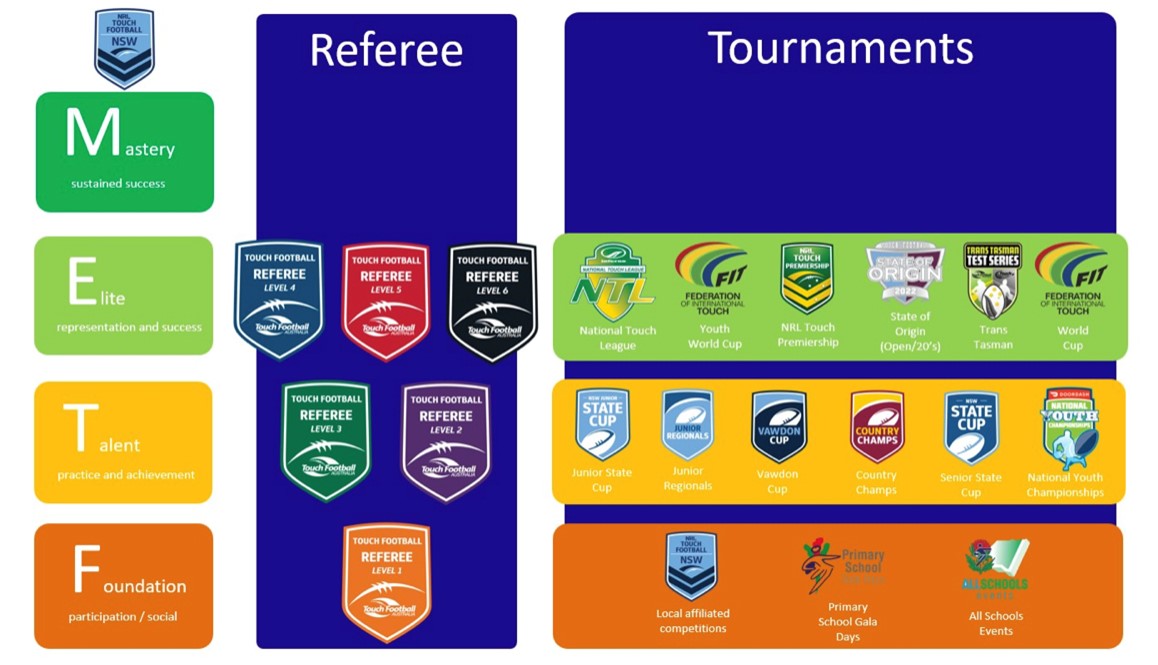 Any badged referee, whether or not completing team duty requirements, will be paid for each match they officiate based on the following rates;

Senior Competitions;
Level 1 Referee - $15 per game
Level 2 or 3 Referee - $20 per game
Level 4, 5 or 6 Referee - $25 per game


Junior Competition;
All Badge Level Referee - $10 cash per game.
Referee credits are tallied throughout the season and can be utilised to purchase referee merchandise and can be cashed out at the end of each season.
UNIFORM
Upon successful completion of the L1 Foundational Referee Course, Dubbo Touch will supply an initial TFA Referee Shirt.Referee Course costs will also be reimbursed by the Club. Should you be interested in completing a Level 1 Foundational Referee Course, or looking to upgrade through the ranks, please contact the Referee Directors at referees@dubbotouch.com.
Further official TFA Referee Uniform can be purchased through the TFA Shop.
Referee Uniforms - Page 1 - Touch Football Australia Shop (touchfootballshop.com.au)